April 2020 is Sexual Assault Awareness Month
 
April is Sexual Assault Awareness Month and UC Berkeley students, faculty, and staff will be hosting events throughout the month that will equip our community with information on how to prevent sexual assault, create a stronger culture of consent, and how to best support survivors.

Get Involved! Help Stop Sexual Assault: April 2020 Event Calendar
Berkeley will be hosting dozens of events this year including rallies, nation-wide activities and customized events and trainings developed here at Berkeley. If you know of an event not listed here, please contact us to be added to this listing.
Coming Soon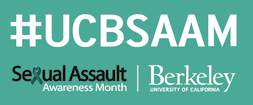 Watch this calendar for additional events. You may also join the movement on Facebook or connect with other students on #UCBSAAM.

Resources
UC Berkeley is dedicated to preventing and addressing sexual harassment and sexual violence on campus. We believe in fostering a culture that prioritizes consent and respect, and responds to and supports survivors and their allies. As part of these efforts, we are working to engage all members of the university community to create a healthy and inspiring environment where violence in any form is not tolerated.
 
Sexual Violence and Sexual Harassment: Learn more about how to get help for a survivor or learn about reporting options.
 
PATH to Care Center: The PATH to Car Center provides affirming, empowering, and confidential support for survivors and those who have experienced gendered violence, including: sexual harassment, dating and intimate partner violence, sexual assault, stalking, and sexual exploitation. Advocates bring a non-judgmental, caring approach to exploring all options, rights, and resources.
 

UC Berkeley's 

Sexual Assault Prevention and Response Efforts

.
Contact Us
Please email us with any questions or concerns.
---
University Health Services offers students after-hours emergency consultation with a counselor 
and crisis resource referrals by calling (855) 817-5667.